Related Topics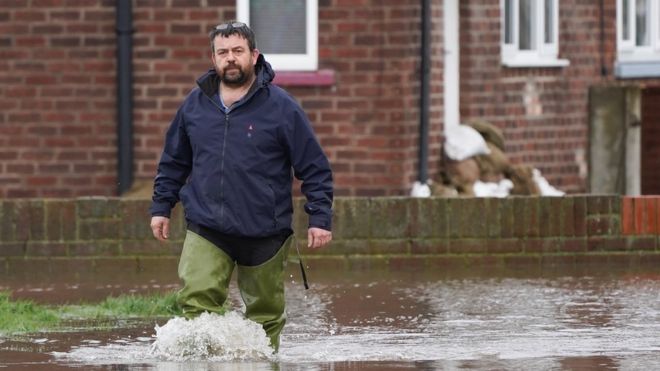 Rainfall data from the Met Office has shown that this month has been the wettest February since records began.
An average of 202.1mm rainfall has fallen this month, surpassing records for February 1990, when 193.4mm fell.
More than 89 flood warnings remain in place in England, with 10 in Wales and one in Scotland as the UK faces its third consecutive weekend of storms.
Storm Jorge is bringing heavy rain and strong winds to the UK causing yet more disruption to flood-hit areas.
This time the focus of the severe weather lies in the South West and Yorkshire, as well as parts of Wales.
The Environment Agency deployed another four pumps, to the existing 18 pumps, to help fight flooding in Snaith, around 20 miles south of York where floodwaters remain catastrophically high.
Several flooded roads were closed in Wiltshire, people were rescued from cars stranded in water in Devon and Somerset, and the Ouse Bridge in Humberside was temporarily closed to high-sided vehicles as gusts reached up to 70mph.
Cardiff Council said emergency teams worked on flood defences, road closures and clearing debris throughout Thursday night, and its roads team responded to around 100 incidents.
Police called a "critical incident" in parts of south Wales on Saturday, including Pontypridd and the Ely area of Cardiff, as emergency services coordinated their response to the weather. But the incident was stood down mid-morning.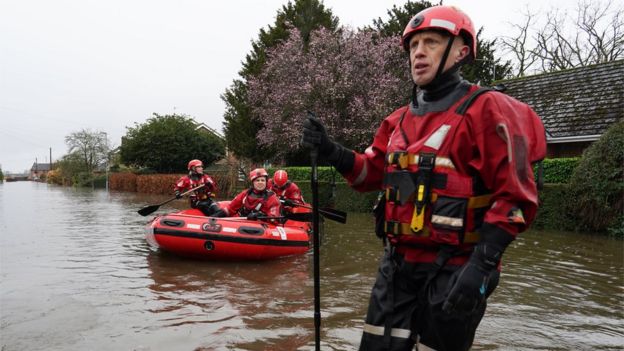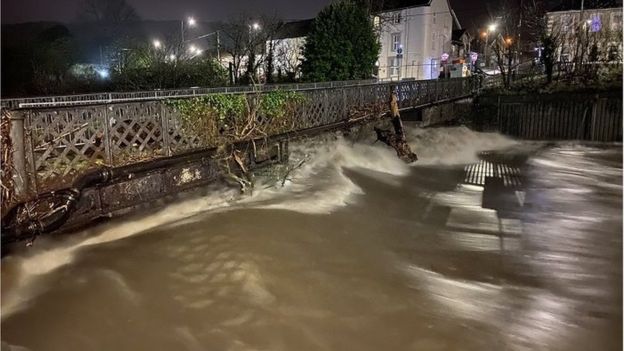 Northern Ireland was among those areas hit by a yellow weather warning on Saturday, with disruption stretching from Cornwall to the north of Scotland, where forecasters said there could be up to 30cm (12in) of snow.
Showers have since eased, but wind warnings remain in place until Sunday – with the possibility of power cuts and transport delays, as well as dangerous waves in coastal areas.
High winds have also been recorded across the island of Ireland where thousands of homes were left without power on Saturday morning as the storm made landfall.
A number of flights have been diverted to Northern Ireland from the Irish Republic because of high winds across the island of Ireland.
'Phenomenal effort'
Some 15 rivers in the Midlands, Yorkshire and Lancashire have recorded their highest levels on record this winter.
After the deluge brought by Storm Ciara and Storm Dennis earlier this month, the Environment Agency engineers have been working to repair temporary flood barriers in Ironbridge, Shropshire, and Bewdley in Worcestershire – both of which have suffered devastating flooding.
The agency's head of floods and coastal management, John Curtin, called it a "phenomenal effort".
A severe flood warning – meaning a danger to life – for the River Severn at Ironbridge was downgraded on Friday.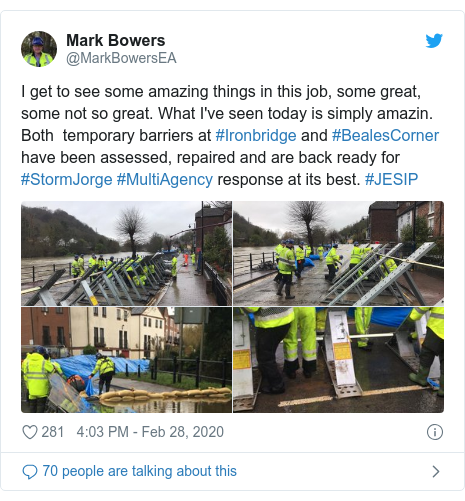 More than 3,300 properties in England are thought to have been flooded as a result of the combined effects of storms Ciara and Dennis, the Department for Environment Food and Rural Affairs said.
But the department said that figure, which includes homes and businesses, is only an estimate due to difficulties in gathering reliable data.